Explore the Majestic Waters, Gorgeous Reefs, & Breathtaking Sunsets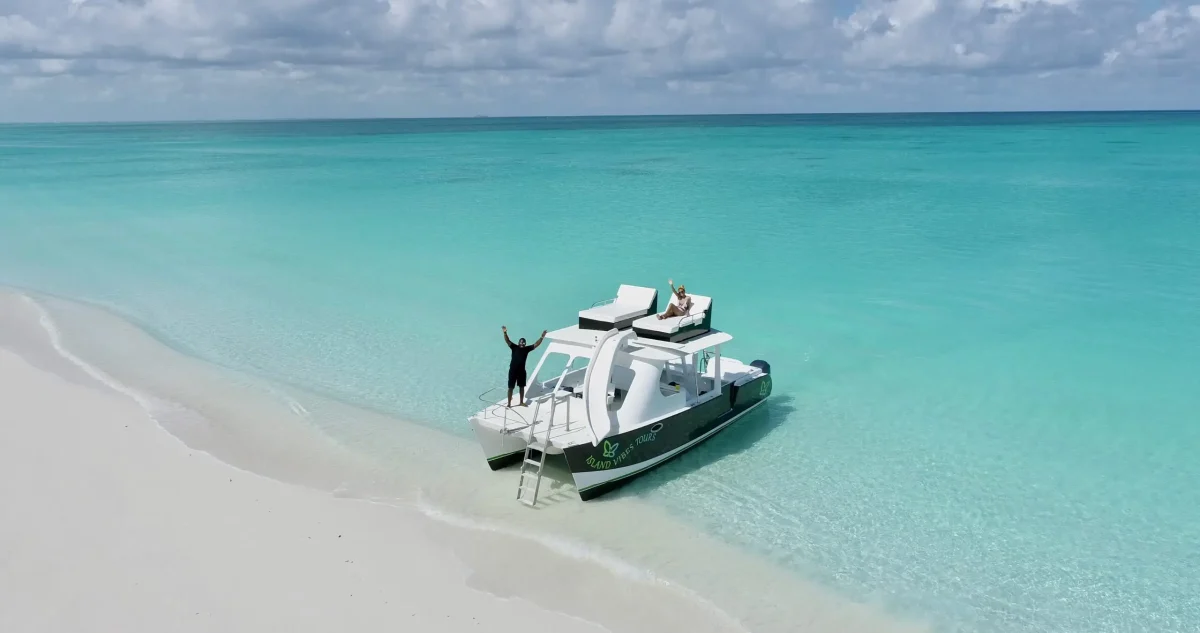 Parasail / Watersport Tours


Haley K
September 29, 2023
We loved every minute! Such a fun time! The water was choppy where we were originally set to get on board, but the team worked quickly and we were transported to another spot-shout out to Spike. They made up for the time lost, as well. Capt Phillip and Manny were knowledgeable and a pleasure to be around. Rum punch and local beer were delicious. The views, of course, were amazing, and we loved visiting Iguana Island. Jumping off of the boat and sliding on the slide were probably our favorite! Well worth the cost of the boat for this private tour. We would definitely do it again!
mnfleener
September 26, 2023
Best tour and would highly recommend! We just returned from a week in Turks & Caicos. On the recommendation of some friends, we booked a 4 hr. snorkeling excursion with Island Vibes Tours. It did not disappoint! Our guides were Alpha and Captain Claude. The weather was perfect, they picked us up on the beach and we were thoroughly entertained with island history, beautiful water and the company of people from many different places. We enjoyed the snorkeling tour with Alpha guiding us, had delicious turkey and chicken wraps, chips along with rum punch, island beer, sodas and water as needed. After snorkeling, we visited Half Moon Bay where we were able to walk a path across the Cay to see the Caribbean Sea which is just as breathtaking. We had time to swim, drink more rum punch etc. and take photos. Alpha was most attentive to our every need. He was the guide, bartender, photographer all in one with such a fun, great attitude. He was efficient, professional, funny and talented as well. After leaving Half Moon Cay, we anchored to allow the adventurous souls on board to dive/jump off the boat or slide down the slide. It was very entertaining. I would also recommend taking time to sit on the upper deck loungers for a beautiful view of the water.
Amazing Day in Paradise!!! Captain Waldy and Stan the Man did a great job keeping us entertained throughout our full day Power Cat tour. The private island picnic was delicious and Waldy dove for lobster to complement the meal. This was my second time to use their service and we will again!!! Robello was very accommodating with our head count changing several times. The beaches they took us to were awww inspiring!! Thanks again!!!
beckyem2017
September 20, 2023
Must do when visiting! A must experience when visiting T&C! Snorkeling, sight seeing, camaraderie, food and good drinks. Tour guides, Alto and Captain Claude made sure everyone was safe and had a great time. We had about two dozen people on our boat, aged two to 70s. Everyone (except the two year old), slid down the slide and jumped off the diving board at our last stop. Snorkeling was about 90 minutes, but you could return to the boat anytime. Lots of rum punch available, snacks, sandwiches. Just a great four hours' worth!!!
Deivondyla N
September 11, 2023
Beautiful island Honestly I'll definitely recommend this for friends or family. Great vibes and my husband loved every moment lol
Alyce M
September 10, 2023
Awesome Experience Had an absolutely AMAZING experience. Iguana Island was so beautiful. The tour guides were fantastic. Will defintely use this service again when I return to TCI.
Ronya S
September 5, 2023
Great tour not overcrowded We had a blast snorkeling and then jumping off the boat! The crew were so friendly. We especially loved that the boat wasn't overcrowded; it was just the right size to mingle with the other guests and have fun. We would definitely recommend this boat tour! Our kids at ages 6 and 7 had a blast as well!
NorthStar716379
September 4, 2023
Best part of my vacation I had a great birthday celebration with friends on this 4 hour excursion. Our original trip was canceled due to rough waters and Island Vibez was very kind to call me and set up a new time the next day. The crew was super friendly and accommodating. Wonderful experience overall.